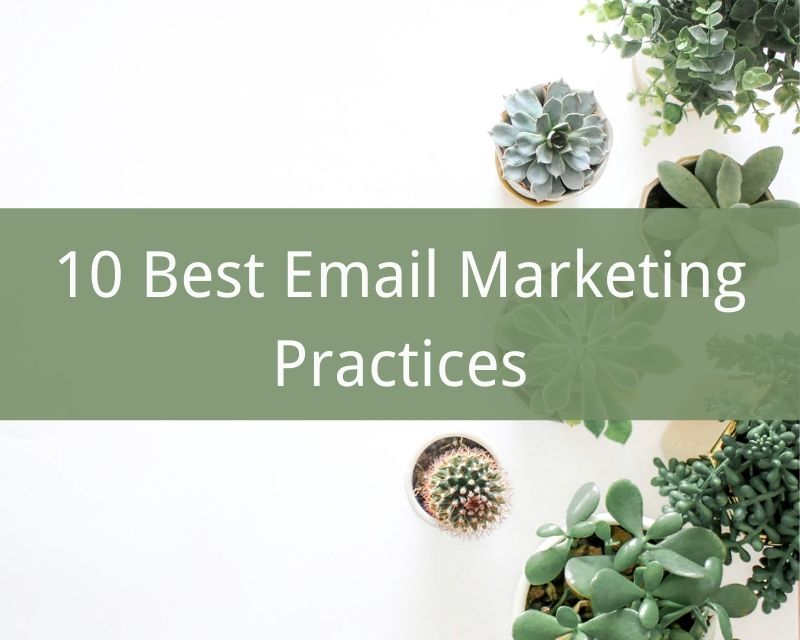 This is a guest post written by Jamie Turner, founder of the 60 Second Marketer. He is an in-demand marketing speaker and author of the book entitled Go Mobile with Jeanne Hopkins, former VP of marketing at HubSpot.
While email marketing may not be getting the attention of some of the newer marketing channels, it is still a very good way for you to generate leads and convert more prospects for your business. With that in mind, I want to share some best email marketing practices that you can use to generate more leads for your business.
Practices Preview
Don't purchase contact lists.
Avoid using 'No-Reply' in the sender's email address.
Stick to fewer than three typefaces.
Optimize the email's preview text.
Include an email signature.
Clean your mailing list regularly.
Keep the main message and call-to-action above the fold.
Personalize the email greeting.
Allow recipients to subscribe/unsubscribe to your newsletter.
A/B test different subject lines and calls to action.
#1 Don't Purchase Email Lists
This first suggestion is not surprising, but it bears repeating in light of the rollout of the General Data Protection Regulation (GDPR). Email campaigns rely on healthy open rates. And if you contact people whose information you've purchased – rather than from previous interactions – you'll quickly see a decline in your email's performance.
GDPR also requires consent from each European recipient before you contact them. And purchased email lists don't usually come with such consent.
#2 Avoid using 'No-Reply' in the sender's email address
Have you heard of CAN-SPAM? This time-honored legislation is a popular and important guideline for all email marketers in the U.S. And there are still many companies trying to comply with it. One of the main rules of CAN-SPAM is to never use "no-reply" or a similar phrase as the name of your email sender (for example, "[email protected]").
Using "no-reply" in an email prevents the recipient from responding or even opting out of more emails, which CAN-SPAM protects them from at any time. Instead, even for your automated emails, make it come from a name (e.g., [email protected]). Your customers are more likely to open an email if they know it was written by a human.
#3 Stick to fewer than three typefaces.
The less clutter you have in your email, the more conversions you'll experience. Don't junk up your email with more than two, or a maximum of three, fonts or typefaces.
#4 Optimize the email's preview text.
You've seen this link in the marketing emails you receive, and don't get me wrong, it's a helpful warning. But keeping it in the preview text of your email could be a death sentence for the email's open rate, which averages 22 percent across industries, according to a report from GetResponse. In this case, you're basically telling recipients, "this email might not work."
By default, preview text pulls in the first several words of the email body and displays it next to the subject line before the person opens it. The problem is custom email templates often stick with conditional statements like "can't see images?" or "not displaying correctly?" along with the top banner, allowing it to slip right into the preview when it goes out.
#5 Include an email signature.
Even if your newsletter is technically sent to your contacts on behalf of a company rather than an individual, the email should include the signature of a specific person. People are naturally more inclined to read and listen to an email if they know it's coming from a single person, not just a collective marketing team. And your email signature is your ticket to grabbing their attention.
#6 Clean your mailing list regularly.
Some of your email contacts may not have opted out of your email campaigns, but still never open your emails. It's tempting to email as many people as possible to reach more potential customers, but keeping the least engaged recipients on your email list kills your open rate. Those who never open emails make your campaigns look worse because you're not analyzing the quality of your campaigns based on your most loyal recipients.
Analyze who doesn't engage with your emails over a certain period of time and delete them regularly. This will allow you to get more accurate email open rates and keep your email campaigns free of people who are no longer interested in your messages.
#7 Keep the main message and call-to-action above the fold.
If your main call-to-action (CTA) falls below the fold, as many as 70% of recipients won't see it. Also, any CTA should be repeated at least three times throughout the email in various places and formats.
#8 Personalize the email greeting.
How many times have you seen an email that starts with "Dear Member"?
You can segment your email audience based on the type of customer (member, subscriber, user, etc.), but that shouldn't be the first thing recipients see in your company message. Personalizing your email greeting with your contact's name will immediately grab the attention of each reader.
Here is an example from the Email Marketing Run-Template Editing

Don't worry, personalizing an email's greeting line with 50 recipients' names doesn't mean you'll have to manually write and send 50 different emails from now on. Many email marketing tools today allow you to configure the greeting of your email campaign. So that it automatically sends with the name of the people on your contact list — so everyone is getting a personal version of the same message.
#9 Allow recipients to subscribe/unsubscribe to your newsletter.
You might be thinking, "wait, if they received the email, to begin with, shouldn't they have already subscribed?"
Usually, yes, and therefore adding a "Subscribe" button to your email doesn't help those who've already agreed to receive your emails. But great content is shareable content. And if your current subscribers are forwarding your emails to their friends and colleagues, you'll want to help them subscribe, too.
Add a small but visible CTA that allows an email viewer to subscribe to the newsletter if they received this email from someone else. But remember, because your newsletter should already be driving another action, such as downloading an ebook or becoming a community member, make sure this "Subscribe" button doesn't distract or confuse users, weakening your main campaign goal in the process.
#10 A/B Test different subject lines and calls to action.
If you can't seem to increase your email open and click-through rates, a few things could be wrong: you're not emailing the right people (are you buying your contact list?). See the first tip at the top of this blog post), or the content of your emails needs improvement. To get started, focus on the latter and run an A/B test.
A/B testing, or "split testing," can be used to improve almost any of your digital marketing content. In an email, this test effectively "splits" your recipients into two groups. Group A receives a normal newsletter, while group B receives a newsletter with a specific variation. This variation tests whether your audience would be more likely to take a certain action if your newsletter were different.